New Travel Ban Blocked By the Courts, Still Biased against Muslims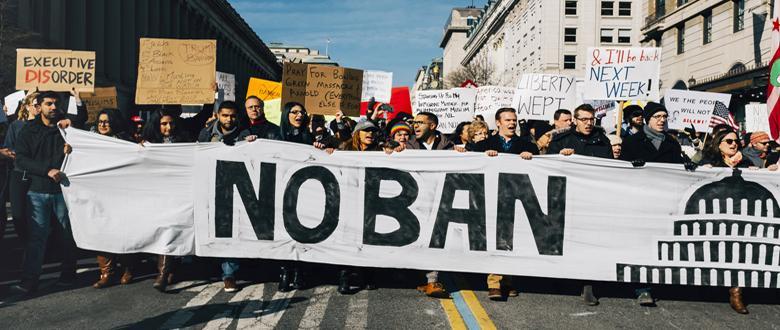 The Trump Administration's revised "travel ban" executive order (a.k.a., the "Muslim ban") was scheduled to go into effect today. Yesterday and early this morning, federal district courts in Hawaii and Maryland blocked the order's implementation, on a nationwide basis. These court opinions emphasized the many public statements by the Administration indicating discriminatory intent against Muslims.
Both courts held that the revised executive order, like the original one, likely violates the Establishment Clause of the constitution. "The clearest command of the Establishment Clause is that one religious denomination cannot be officially preferred over another." (Hawaii v Trump order, p. 29. )
As we noted when the revised executive order was released, its central purpose remains discriminatory.
The executive order singles out majority-Muslim countries and discriminates against individuals based on religion, race, and national origin. It violates multiple constitutional provisions, and several federal laws. (See here for a full list of legal claims likely to be brought against the executive order, and a detailed description of its provisions.)
Yesterday's court opinions emphasized the plainly discriminatory purpose and effect of the Administration's action, and highlighted the lack of any evidence that the order was based on valid national security objectives. Both courts focused on Administration figures' multiple public statements indicating that the executive order intentionally targets Muslims:
The court record "includes significant and unrebutted evidence of religious animus driving the promulgation of the executive order…" (Hawaii v Trump order, p. 33.)

"These statements, which include explicit, direct statements of President Trump's animus toward Muslims and intention to impose a ban on Muslims entering the United States, present a convincing case that the first executive order was issued to accomplish, as nearly as possible, President Trump's promised Muslim ban … In particular, the direct statements by President Trump and (former New York City Mayor Rudy) Giuliani's account of his conversations with President Trump reveal that the plan had been to bar the entry of nationals of predominantly Muslim countries deemed to constitute dangerous territory in order to approximate a Muslim ban without calling it one precisely the form of the travel ban in the first executive order." (International Refugee Assistance Project v. Trump order, p. 29.)

PolicyLink stands with advocates for immigrant communities and families around the world in opposing the discriminatory and needless revision of our nation's longstanding immigration and refugee programs. As these courts have indicated, the travel ban is plainly discriminatory, and violates the most basic principles on which the country was founded. We are confident that courts will continue to protect individual rights against the excesses of this Administration.
Following are some of the many organizations working to protect our immigrant communities.